I'm basically a vintage clothing newbie. Though I have long admired vintage clothes and owned and worn a few vintage items, I didn't start really collecting vintage and vintage reproduction clothes, and dressing in period styles on a nearly daily basis until last year, around my thirty fifth birthday.
One of my first full on vintage outfits made by Time Machine Vintage. I wore it to the jazz age lawn party last year.
Around that time I decided in the spirit of you only live once that since I love vintage style clothes, I should wear them, every day, even if I'm just walking my dogs.
I admit however, that initially as most of the vintage bloggers whose sites I had been lurking on for months where younger then me, I wondered if perhaps I was a bit too old for vintage.
I did what any one confronted with a conundrum does these days, I googled it.
I actually didn't find too many articles, but many I did find, such as this one from XO Jane, seemed down on the idea of woman past 30 wearing vintage. The feeling being that it might look dowdy, matronly, or costumey.
My opinion people should wear just want they please, be it sweat pants or evening gowns, regardless of age.
Since embracing vintage style I have feel more like me and I find a new pleasure in getting dressed everyday.

Today I turn 36 and I am more in love with vintage style then ever and I plan to keep on wearing it for as long as I'm on this earth. In that spirit hear is my list of slightly older ladies, both real and fictional, who show that vintage style can look fantastic at any age.
1) Poirot's Miss Lemon
I am so enamored of Poirot's Miss Lemon, I did a whole post on her here, as played by Pauline Moran on the Masterpiece Theatre series that I frequently lose track of the murder plots in the episodes of this show, because I'm too busy drooling over Miss Lemon's outfits. I consider Miss Lemon the ultimate 1930s style icon, but Poirot is packed with other gorgeous examples of vintage style worn by ladies of all ages.
2)
Fashion Journalist Lynn Yaeger
Lynn Yaeger may not wear strictly vintage but this fashion journalist obviously has eccentric retro influenced style and doesn't let age stand in her way of looking unique and fabulous. Here is an article about her vintage collecting.
3) Katherine Hepburn-
Granted when she was wearing it, it wasn't vintage but Katherine Hepburn had a successful film career in the late 1940s and 1950s when she was in her 40s, making her a rarity at a time when younger actresses where de rigeur.
4) Lucille Ball-
Again, the same issue as with Katherine Hepburn, but when Lucille Ball was at the height of her TV fame she was in her 40s. Her cute 50s house dresses would look amazing on a woman of any age today.
5) Agatha Christie's Miss Marple as played by Joan Hickson on the 1984 to 92 series,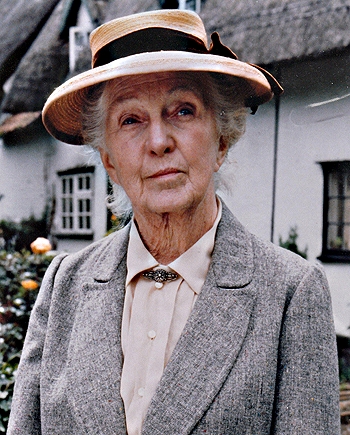 understood that the key to true style is to have a uniform. With her trademark straw hat, tweed suit, and carpet bag she had an eccentric and charming uniform. Was it matronly, yes, but it had a lot of charm too.
6) Miss Marple as played by Geraldine McEwan on the 2004-2009 series.
McEwan's Marple is a bit more dressed up then Hickinson's but the essential components of the look: straw hat, carpet bag, and tweed are there.
7) All of the older ladies of advanced style. These women sport many amazing outfits, from classic to kooky, and vintage is a frequent element. If you ever get tired of seeing teenage models plastered across magazine covers and advertisements, then this blog is the anecdote. It is a wonderful celebration of the creativity and style of older people. The best part is it isn't just superficial style the blog tells the women's, and sometimes men's, stories all of which show that older people can live exciting and full lives.
All of the above images are from Advanced Style.
I'm sure there are many other wonderful examples of older people with great style, vintage and otherwise, if you have any additions to my list I'd love to hear them.