If you've followed this blog at all you might know I have a bit of a thing for the incomparable Fred Astaire
He's my favorite singer, my favorite film star, and though he may be nearly thirty years in the grave my number one celebrity crush. Basically if it involves Fred Astaire I can' resist it. Fred Astaire introduced dozens of popular songs during his decades long career, many of them written by Irving Berlin.

So when I first saw the aptly name Irving blouse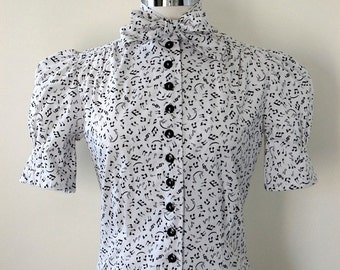 in Jitterbuggin's Etsy shop it was the Fred connection that caught my eye, Fred introduced many an Irving Berlin song in his films, but one good look at the lovely 1930s style blouse with a bow at the neck and the music note print and I was as smitten as when I first saw Fred and Ginger dance as a pre-teen.
I immediately ordered the blouse and like all my other Jitterbuggin' pieces its quickly become a favorite staple in my wardrobe. This blouse looks equal good paired with jeans, skirts, or pinafores.
It is a 1930s style blouse but I like to mix eras and my favorite way to wear it is with my 1930s style skirt from Time Machine Vintage and a red 1940s hat I got during an awesome clearance sale at Poppycock vintage. To accessorize I added sparkly red miss l fire shoes, some thrifted bakelite bangles and a lovely reproduction 1940s heart pin from MerriWeather.
but in this blouse I can at least face the music!