As I wrote about in last Wednesday's post on the film Neptune's Daughter there
is a glamour in retro styles suits that simply can't be found in more modern swim wear, not to mention that the the swim ware of decades past is far more flattering for most women then modern offerings. So were can you find the vintage style swim wear of your dreams? Luckily there are plenty of sources. Here are 6 good ones
1) Esther William's Swim Wear
These retro style suits are inspired by the ultimate 1940s swimming sensation, and just as glamorous and flattering as the suits she wore. They are also available in a wide range of sizes and have a reasonable mid-level price point.
2) Pin Up Girl Clothing
This is another source for glamorous 1940s and 50s style swim wear in a range of sizes. The prices are a bit higher then the Esther William's suits, but not by much, and the styles are perhaps even more period authentic.
3) If 1920s and 30s style suits are more your style then you might want to check out Sarina Poppy on Etsy. These suits are very authentic and quite modest. The navy number below is the suit I hope I will be sporting next summer. I love the striped detailing.
4) If you are a 1950s fashion fan then Vintage Suits by Mary on Etsy may well have your dream swim wear. She has a wide range of two piece and one piece suits. My favorites are the Hawaiian prints with there adorable tikki appeal.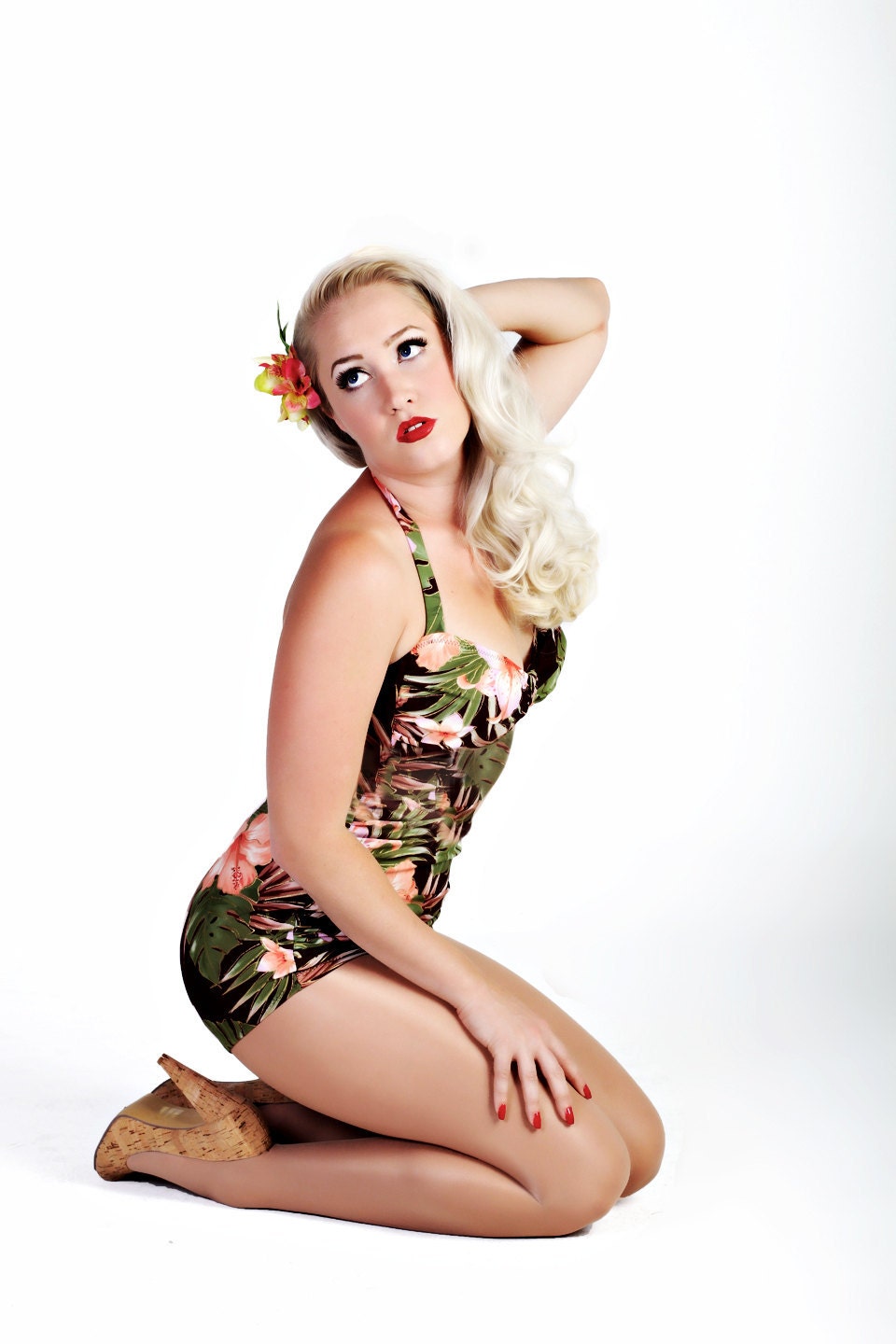 Image Source
5) If swim dresses are your style then Revamp Vintage is a good source.
6) One of my favorite repro companies, Jitterbuggin' with there great casual 1930s and 40s wares, makes lovely swim suits and sun suits.
My own swim suit, or more accurately sun suit, since its thick cotton appropriate for wading and not swimming, is from Jitterbuggin'. My lovely husband gave me a Jitterbuggin' gift certificate for our anniversary and I decided to be brave and get their adorable two piece lobster print sun suit. I haven't worn a two piece since I was in my early twenties, but I say we need to work to be comfortable with ourselves: lumps, bumps, rolls, wrinkles and all. I wore my sun suit to the lovely Wawayanda state park in NJ. Here are some pictures of our day: