Today marks the 109th anniversary of the birth of the original "It Girl" the incomparable Clara Bow.
The term "it girl" which has been bestowed on dozens of young female entertainers since Clara first carried the mantle in the twenties comes from the 1927 film that made her an international star.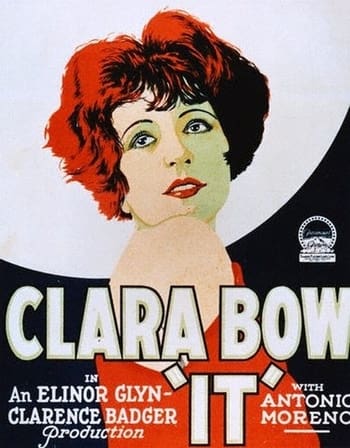 It was based on a short story by the popular romance novelist Elanore Glyn. According to the film It is:
To generate interest for the picture the producers of the film had Glyn declare Clara the "it girl" in a press campaign
and in the film Clara does appear to have oodles of "IT." Clara plays Betty Lou Spence an ordinary shop girl with a zest for life and big ambitions.


Despite her humble origins Betty Lou refuses to be kept down, when she spots her handsome new boss, Cyrus Waltham, she dreamily declares: "Oh Santa Clause bring me him." When her fellow shop girls chuckle, Betty gets her back up.

It never occurs to her that the wealthy blue blood Cyrus may be out of her league and with plucky determination she sets out to win his heart.
The same day on her way home from work Betty catches the eye of Cyrus's playboy friend Monty who has been reading Elanore Glyn's It story and feels Betty Lou is brimming with the elusive quality.

He offers to give her a ride home in his chauffeured car but Betty suggests they take her ride instead and with a mischievous glint she pushes the foppish Monty onto a crowded city bus.
Monty invites Betty Lou out for dinner and she agrees, provided they go to the Ritz.

After the bus ride Clara returns to the tenement apartment she shares with her sick friend Molly and Molly's baby.

Play time over Betty has to tackle the problem of what to wear to dinner. With Molly's help she transforms her black day dress into a cocktail dress.
At the Ritz
Betty Lou spots Cyrus dining with his socialite girl friend, Adela. A patrician blue blood with an air of well practiced restraint, Adela couldn't be more different then the vivacious working class, Betty Lou.
At their table Cyrus and Adela are discussing Glyn's story. Adela, unsurprisingly, can't quite grasp the concept of "IT". Luckily, Elanor Glyn is on hand to make a cameo appearance and explain the concept to Cyrus and Adela.
Meanwhile Betty cleverly manipulates the situation to ensure that Monty introduces her to Cyrus. The two flirt a bit, much to Adela's annoyance, and Betty bets Cyrus that the next time he sees her he wont recognize her, and he accepts the bet.
The following day at work Betty gets into a disagreement with a difficult customer and is called into Cyrus's office to be reprimanded, as she expected he doesn't at first recognize her. Admitting he has lost the bet Cyrus agrees to take Betty out on a date and she suggests an evening spent at Coney Island.
After the blue collar pleasures of Coney Island, Cyrus is a goner, hopelessly smitten with Betty Lou, but of course
complications must ensue. Cyrus winds up thinking Molly's baby is Betty's and feeling she is unworthy of being his wife, he clumsily tries to entice her to be his mistress.
An outraged Betty tells him off and quits her job at the department store and a heart broken Cyrus goes on a yachting trip with Adela.
Betty manipulates things so as to go on on the yachting trip as Monty's guest, her plan being to get Cyrus to propose and then "laugh in his face." Pretending to be a high society socialite she cavorts around the yacht in an adorable pair of beach pajamas and an artfully tied scarf, she also plays the ukulele.
Of course the film has a happy ending. Betty Lou winds up jumping in the ocean to save Adela who has fallen overboard and Cyrus jumps in to save Betty. The film ends with Betty and Cyrus embracing
and Monty comforting a stricken Adela with the words "we're just a couple of it-less, its."
The Cinderella story at the heart of It has been told a million times before and since, but it has never been told better. It is a near perfect fluffy confection or romantic screwball comedy. It is by far my favorite silent movie, and the film I would recommend that any silent film newbies watch first. With Clara's magnetic performance and the quick pace of the scenes you won't miss the words at all. Sadly the film is a bit hard to find, but it is available for rent from Netflix.