As everyone knows the 1930s where a difficult period in American life. The country grappled with economic and ecological disasters that turned vast sections of the country into barren waste lands and during the worst years saw a quarter of the American work force unemployed. In the face of such calamaties what better time to turn to a devoted canine companion for comfort and support? Apparently plenty of Americans in the 1930s did just that and pictures from the decade document it.
Unsurprisingly all American pit bull type breeds where extremely popular 1930s companions. Images from the period show them in a wide range of socio-economic situations. The two pictures below are a good example, the first picture showing a group of men, perhaps farm workers or hobos with their dogs, and the second two well dressed men who may have been students or professionals.


Image Source






In the thirties pitbulls also enjoyed a reputation as the perfect family breed, something that is sadly no longer the case. Quite a few images from the period show children with pitbull type dogs.

And of course nearly everyone knows that the beloved Petey of Little Rascals, a popular cinema serial in the 30s was a pitbull.
According to some AKC records Boston Terriers where the most popular breed in the US during the thirties. In addition to appearing in family photographs they pop up in plenty of advertisements and publicity shots from the decade. If the images below are any indication they seem to have been very popular with stylish women.
Movies where incredibly popular in the 1930s with nearly three quarters of the population attending the cinema once a week, so its no surprise that the dogs that appeared on screen often made an appearance in fan's homes as well. The Thin Man movies in which canine star Skippy portrayed the charming Asta helped popularize the Wire Fox Terrier making it one of the decades top breeds.
Another popular terrier during the 30s was the adorable Sealyham terrier. Sadly these charming dogs popularity has declined sharply making it one of the rarest breeds today.
Of course there were plenty of other breeds about in the 1930s as well.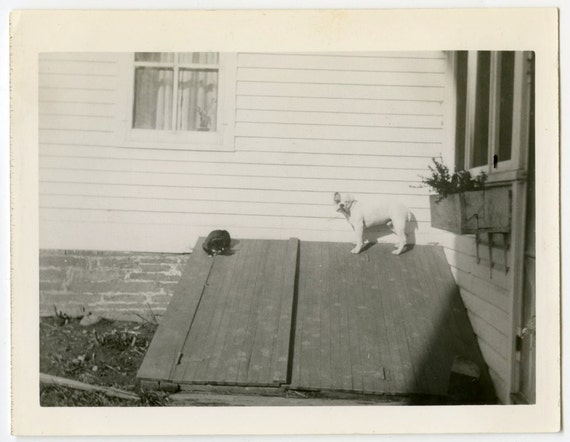 These are just a smattering of the images you can find, there are dozens more. I love them all because looking at these pictures you are reminded of no matter how much the world has changed, our lover for our dogs remains the same.