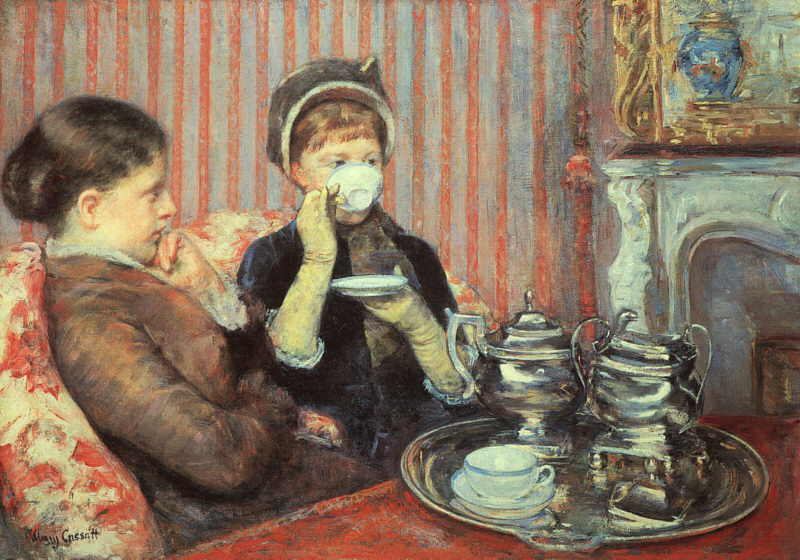 Mary Cassat: Five O'Clock Tea
Naturally most people, myself include, associate tea culture with Great Britain but America has a tea culture as well. In the early days of the republic, due in part to the Boston Tea Party incident, tea drinking was frowned on and coffee was held in more favor, and continues to be to this day. During the Victorian era tea enjoyed a surge in popularity due to Queen Victoria's love of afternoon tea. Having afternoon tea was signal of wealth and the upper classes, and middle class strivers, began to enjoy the meal. Tea parties and tea rooms where particularly popular with women since they were often banned from male dominated dining clubs and restaurants. The popularity for such places faded as women gained a more influential position in society and the work force and today Afternoon Tea is a fancy occasion meal, rather then a regular occurrence.
Three Kinds of Tea Sandwiches
Coronation Chicken Salad
4 split chicken breasts, skin on
olive oil
salt and pepper
small yellow onion, minced
2 tbsp butter
1/4 cup curry powder
3 cans apricot halves in juice, drained
1/4 cup tomato puree
1/2 cup red wine or white wine or water if you have no wine
1 bay leaf
1/4 cup Major Grey's mango chutney
1 cup mayonnaise
butter lettuce leaves, washed and dried
white or whole wheat sandwich bread for serving
Preheat the oven to 350. Rub the chicken breasts with olive oil and season well with salt and pepper. Roast in the oven for 35 minutes until cooked through. Cool and remove the skin and shred the meat and set aside.
Melt the butter in a medium sauce pan and saute the onion until soft stir in the curry powder, apricots, tomato paste, wine, bay leaf, and chutney. Simmer over low heat until nice and thick, about 20 minutes. Remove from the heat and cool. Once cool stir in the chicken and mayonnaise. Serve on the bread with the lettuce leaves.
Cucumber and Cream Cheese
1 hot house or English cucumber sliced very thin
softened cream cheese
whole wheat bread
Spread the bread with the cream cheese, thinly, and top with the cumber. Cut off the crusts.
Egg Salad
8 large eggs, hard cooked by placing in a large pot covered in cold water bringing to a rolling boil and setting aside covered and off the heat for 30 minutes.
1 bunch scallions, sliced thin
1 tbsp minced chives
1/2 cup mayonnaise
salt and pepper to taste
watercress
white bread
Dice the eggs and gently mix in the mayonnaise, chives, and scallions. Season with salt and pepper. Slice the crust off the white bread and spread with the egg salad thinly.
Nigella Lawson's Fairy Cakes
Make 6 to 12
1/2 cup (1 stick) soft butter
1/2 cup plus 1 tbsp sugar
2 eggs at room temperature
3/4 cup flour
1 tsp baking powder
1/2 tsp baking soda
1 tsp pure vanilla extract
1 tbsp milk
1 cup heavy cream (reduce to 3/4 cup if you want to make 6 large cakes)
food coloring
Preheat oven to 400. Line a cupcake with 12 liners for small cakes or 6 for larger cakes, I made 6 as I couldn't manage to get 12 from the batter.
Cream the butter and sugar in an electric mixer to very light and fluffy add the eggs one at a time with 1 tbsp of the flour added with each egg. Turn of the mixer and using a rubber spatula gently fold in the rest of the flour the baking powder, baking soda, milk and vanilla extract. Spoon into the liners and bake for 15 minutes. Cool.
Beat the cream until soft peaks form and color with the food coloring. Add sugar if you want it sweeter, I like mine unsweetened. Top the cakes with the cream.